Trip Tone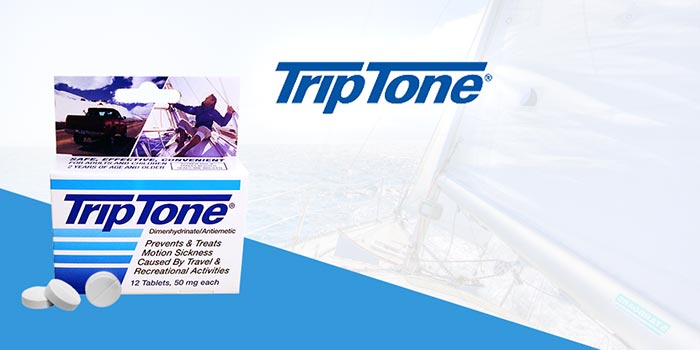 MOTION SICKNESS REMEDY
A tablet a day to prevent and treat symptoms associated with motion sickness.
Product Details
Safe, effective, and convenient treatment for motion sickness caused by travel and recreational activities. A formulated non-drowsy solution safe for the entire family. Donít let motion sickness get in the way of a good day!
ABOUT MOTION SICKNESS
Motion sickness is awful to go through, however it is usually a temporary, minor problem that can be prevented. It is most commonly observed in boat travel (seasickness), although any type of travel or motion can induce motion sickness. Other examples of motion or travel sickness include car sickness and air sickness. The most common symptoms of motion sickness include:

Nausea
Dizziness
Sweating
Vomiting
Headache
Fatigue

Use Trip Tone to help prevent and treat motion sickness to avoid these symptoms during an unpleasant ride.
TRIP TONE DOSAGE
Recommended for adults and children 12 years of age and over.
Take 1 to 2 tablets once daily or as directed by a doctor.
Trip Tone should be taken one hour before travel starts.