Nice Product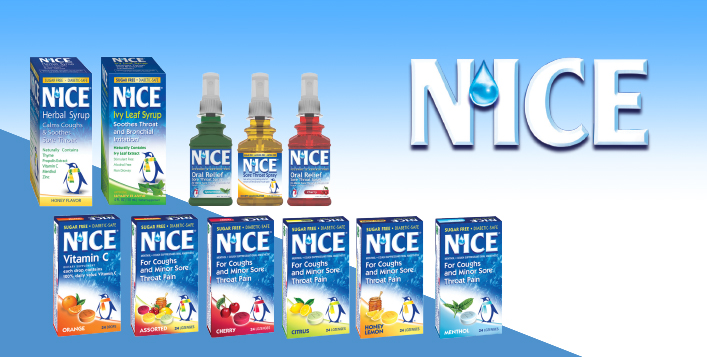 RELIEF FOR SORE THROAT AND COUGH
N'ICE Cough and Throat pain lozenge and spray is the leading cough suppressant and oral anesthetic.
Product Details
For years consumers have relied on N'ICE Cough & Throat lozenges to provide minor sore throat relief and suppress coughs associated with the common cold. These delicious tasting lozenges appeal to adults and children and are diabetic friendly!
TASTY FLAVOR AND SUGAR FREE
N'ICE comes sugar free and diabetic safe without sacrificing taste. N'ICE lozenge comes in the following tasty flavors:

Cherry
Citrus
Honey Lemon
Menthol
Orange
Assorted Flavor Pack

N'ICE also comes as a throat spray available in the following flavors:

Cherry
Honey Lemon
Spearmint

And Nice Herbal Syrup – Honey Flavor

Calms cough and sore throat
Sugar Free / Diabetic - safe
WHEN TO USE N'ICE
Is your throat scratchy? Feeling sore? Does it hurt to swallow? Do you have a constant cough you just can't get rid of? Feel a constant tickle in the back of your mouth? Does your body feel weak?

If you are answering yes to one or more of the above, then try N'ICE to help soothe and relieve your symptoms.
N'ICE DIRECTIONS
Simply dissolve a lozenge slowly in mouth.

May be repeated every hour for coughs as needed or as directed by a doctor.
May be repeated every 2 hours for sore throat.
Do not take more than 10 lozenges per day.
For adults and children 6 years and older.
Consult a doctor for children under 6 years.