LEONA'S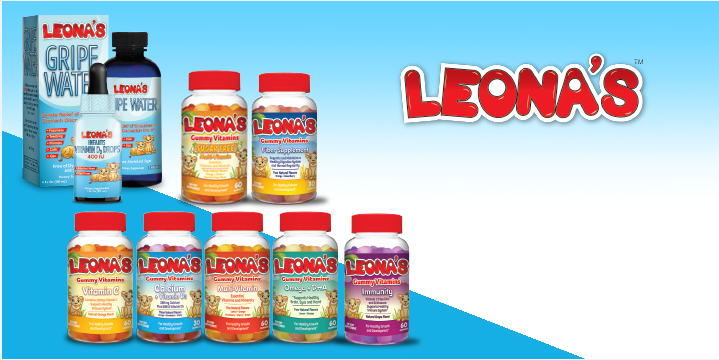 Leona's Multivitamin Gummy Vitamins for Children.
Vegetarian and Gelatin Free
Product Details
Calcium + Vitamin D
Three Natural Flavors in Orange, Strawberry, and Black Cherry
200 mg Calcium
200 IU Vitamin D
Vitamin C
Natural Orange Flavor
Contains 250 mg of Vitamin C
Supports Healthy Immune System
Multi-Vitamin
Essential Vitamins and Minerals
Natural Flavors in Strawberry, Raspberry, Peach, Lemon, and Orange
Helps promote sleep
Immunity
Vitamin C Plus Zinc and Achinacea
Supports Healthy Immune System
Omega + DHA
Supports Healthy Brain Eyes and Heart
Fiber Supplement
Supports and Maintain a Healthy Digestive System and Normal Regularity
KIDS SUPPLEMENTS
Vitamin D3 Drops
Specially designed for breastfed and partially breastfed infants
Gripe Water
Safe and effective used to ease discomfort often associated with gas, colic, hiccups, teething and over-all fussiness of our little ones.
Simethicone free formula combines age old ingredients like ginger and fennel to make our little cubs feel great!