Leolyte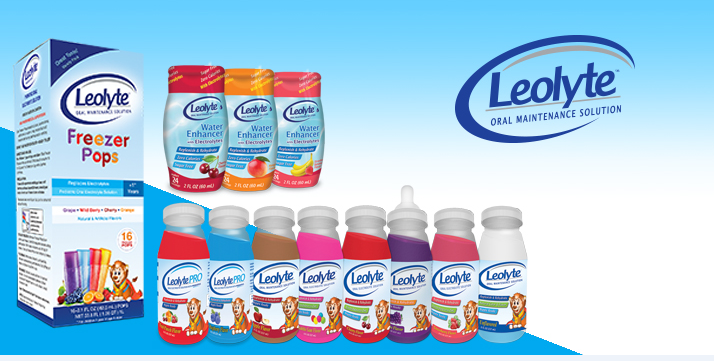 ORAL ELECTROLYTE SOLUTION
Leolyte is a leading pediatrician recommended brand of oral electrolyte solution designed to help prevent dehydration due to diarrhea and vomiting.
Product Details
Leolyte is a pediatrician recommended brand of oral electrolyte solution to help prevent dehydration due to diarrhea and vomiting.
LEOLYTE CALMS TROUBLED TUMMIES
Diarrhea and vomiting are signs of dehydration and a troubled tummy. Those tummies are not absorbing vital body fluids and nutrients, which means dehydration is inevitable.

Leolyte is different from your everyday household drink. It is formulated to hydrate and restore kids' bodies, giving back the minerals and nutrients lost due to vomiting and diarrhea that can lead to dehydration. Leolyte is the leading pediatrician-recommended brand of electrolyte solution, and it gives troublesome tummies just what they need.
LEOLYTE AND ZINC
Leolyte contains zinc, which has been medically proven to treat diahhrea.


Studies have shown that zinc treatment results in 25% reduction in duration of acute diarrhea and a 40% reduction in treatment failure in persistent diarrhea.
Zinc improves the absorption of water and electrolytes, improves regeneration of the intestinal epithelium.
Zinc increases the levels of brush border enzymes, enhancing the immune response and allowing for a better clearance of the pathogens.

WHO and UNICEF, in collaboration with USAID recommends a daily dose of zinc salt during acute diarrhea.
LEOLYTE USE
Twist on any standard baby bottle nipple cap on the Leolyte bottle and enjoy.

For infants less than 6 months of age, consult your doctor on proper dosage requirements and before use. Leolyte is to be used at the onset of vomiting and/or diarrhea, along with your child's normal food and beverage intake. Following the above guidelines, offer Leolyte after each episode of vomiting or diarrhea to help replace fluid and electrolyte lost. Additional amounts may be offered if child shows signs of discontinued thirst. Your doctor may specify a different amount based on your child's age, weight and other factors. Consult your doctor before use. Usage guidelines should not replace medical advice.