Hemosoothe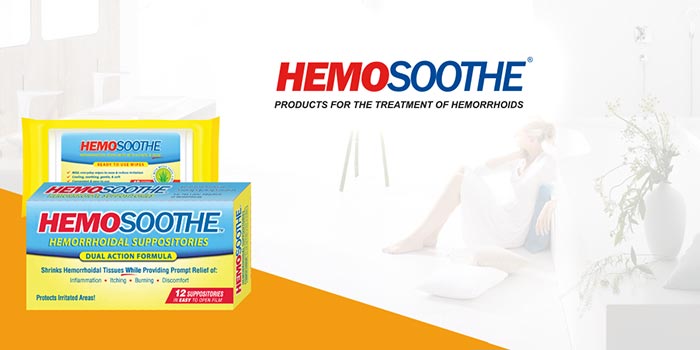 SWIFT AND SOOTHING RELIEF
HemoSoothe contains a dual action formula designed to quickly shrink
hemorrhoidal tissues while providing fast relief.
Product Details
If you have internal hemorrhoids, you know that they cause uncomfortable itching, burning and overall discomfort. Hemo Soothe shrinks swollen hemorrhoidal tissue and even protects against further irritation. This means that you can enjoy your day, without letting hemorrhoid flare-ups or irritation get you down.
MEDICATED DUAL ACTION FORMULA
HemoSoothe Dual Action Formula:

• Smooth formula
• Maximum strength pain relief
• Temporarily helps relieve local itching and discomfort associated with hemorrhoids
• Helps make bowl movements less painful
• Reduces internal swelling, soothes and protects
• Protects irritated tissue
• Also for nighttime relief
• Shrinks swollen hemorrhoid tissue
• Available as suppositories and moist wipes.
HEMOSOOTHE MEDICATED WIPES
For better relief, add HemoSoothe Wipes to your routine. Unlike most ordinary wipes, they relieve while you clean. They can also be used everyday when not in a flare-up to keep the affected area clean, helping protect tissue from damage and irritation.
HEMOSOOTHE SUPPOSITORY
If you have internal hemorrhoids, HemoSooth Suppositories provide provide effective nighttime relief and reduce internal swelling.

Directions:
Insert one suppository into the rectum up to 4 times daily, especially at night, in the morning and after each bowel movement.

To Insert a Suppository:
Wash your hands before and after. Try to empty your bowel and bladder just before inserting suppository.
Remove the outer wrapper from the suppository before inserting it. Avoid handling the suppository too long or it will melt in your hands.
Lie on your side with your lower leg straightened out and your upper leg bent forward toward your stomach. Lift upper buttock to expose rectal area.
Insert one suppository, pointed end first, with your finger until it passes the muscular sphincter of the rectum, about 1 inch in adults. (If not inserted past the sphincter, the suppository may pop out.).
Hold buttocks together for five seconds.
For best results from the suppository, remain lying down for five minutes to avoid having the suppository come out.
The suppository will melt quickly once inserted and you should feel little or no discomfort while holding it in.
Avoid having a bowel movement for one to three hours after inserting the suppository.