GAS AID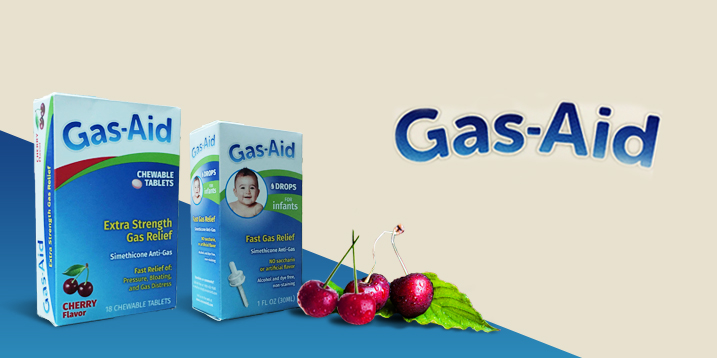 Product Details
This product is used to relieve symptoms of extra gas such as belching, bloating, and feelings of pressure/discomfort in the stomach/gut, It helps break up gas bubbles in the gut and relieves abdominal pain due to excessive gas in the digestive tract. It also is given to patients undergoing upper abdominal ultrasound imaging. An anti-gas (anti-flatulence) medication. It acts in the stomach and intestines to change the surface tension of gas bubbles, enabling their breakdown and the formation of larger bubbles. In this way it is believed that gas can be eliminated more easily by belching or passing flatus.
Preparations
Liquid drops: 40 mg per 0.6 ml. Chewable tablets: 40, 80 and 125 mg. Capsules: 125 and 180 mg.
Storage
Preparations should be stored at room temperature, 15 C - 30 C (59 F - 86 F).
Dosing
The recommended dose for relieving gas is 40-125 mg 4 times daily after meals and at bedtime. The drops can be mixed with water, infant formula or other liquids for use in small children.
How to use
Take this product by mouth, usually after meals and at bedtime or as directed by your doctor. Swallow the capsules whole. Do not crush or chew the capsules. Follow all directions on the product package. If you are uncertain about any of the information, consult your doctor or pharmacist.
Side Effects
There are no reports of any side effects due to this medication. However, tell your doctor if you experience any unpleasant effects while taking this medication.