AMERIX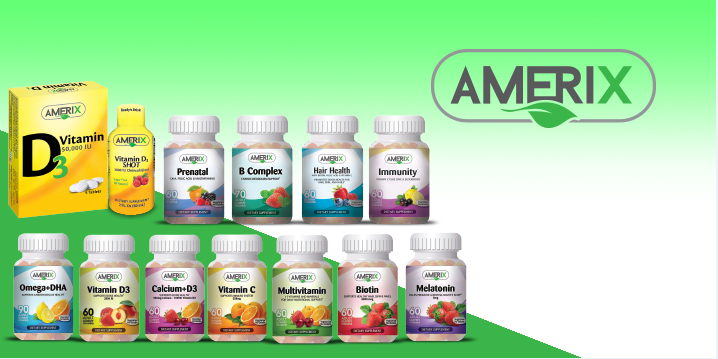 Amerix provides adults with an easy way to get the vitamins needed daily for good health maintenance. Amerix, The Next Generation Gummy Vitamins for Adults.
Product Details
Biotin
Stabilizes blood and sugar (Glucose) levels
Helps in preventing diabetic neuropathy
Supports healthy growth of hair, skin, and nails
Calcium + D3
CoQ10
Functions as an antioxidant
Protects heart and muscle skeletal
Melatonin
Used for migraine prevention
Offers important enhancement to the brain and nervous system
Helps promote sleep
Multivitamin
Essential vitamin and minerals for daily nutritional support for adults
Omega + DHA
Supports visual performance
Supports brain function
Vitamin C
Supports the immune system
Vitamin D3
Hair Health
Promotes Good Health for Hair, Skin, and Nails
Immunity
Vitamin C Plus Zinc & Elderberry
Prenatal
DHA, Folic Acid & Multivitamins
B Complex
Energy Metabolism Support
ADULT SUPPLEMENTS
Vitamin D3 Shot – 2000 IU Cholecalciferol Ready to Drink
Vitamin D3 Tablet – 50,000 IU (5 Tablets)
OTHER INFORMATION
No high fructose corn syrup. Contains no milk, fish, wheat, egg, shellfish, peanuts, tree nuts, or soy. Amerix products does not contain gelatin and are vegetarian and Halal.